Banana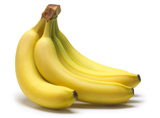 Bananas are high in potassium, which keeps high blood pressure in check and reduces the risk of heart disease. In conjunction with sodium they help maintain the fluid and electrolyte balance in body cells, thus maintaining healthy nerve and muscle function. They also contain tryptophan, which the body converts to serotonin to aid peaceful sleep.
Facts About Banana
DESCRIPTION : There are two main varieties of bananas, the fruit or sweet banana and the plantain. The fruit banana is eaten raw out of hand when it turns yellow and develops a succulent sweetness with a soft, smooth, creamy, yet firm pulp. The plantain, a cooking banana, is also referred to as the meal, vegetable or horse banana. Plantains have lower water content, making them drier and starchier than fruit bananas. Though the banana plant has the appearance of a sort of palm tree, and is often called a banana palm, it is actually considered a perennial herb. It dies back after each fruiting and produces new growth for the next generation of fruit. Bananas do not grow simply from seed. Man intervened long ago and crossed two varieties of African wild bananas, the Musa acuminata and the Musa baalbisiana, got rid of the many seeds that were an unpleasant presence, and improved the flavor and texture from hard and unappetizing to its present soft and irresistibly sweet flavor
HISTORY : The true origin of Bananas, world's most popular fruit, is found in the region of Malaysia. By way of curious visitors, bananas traveled from there to India where they are mentioned in the Buddhist Pali writings dating back to the 6th century BCE. In his campaign in India in 327 BCE, Alexander the Great relished his first taste of the banana, an usual fruit he saw growing on tall trees. He is even credited with bringing the banana from India to the Western world. According to Chinese historian Yang Fu, China was tending plantations of bananas in 200 CE. These bananas grew only in the southern region of China and were considered exotic, rare fruits that never became popular with the Chinese masses until the 20th century.
Preparation: Stir together the flour, paprika, thyme and salt on a large plate. Pour milk into a shallow bowl. Heat oil in a large skillet over medium heat until hot, not smoking. Dip fish in milk, then flour mixture. Cook in hot oil, in batches if necessary, until browned on the bottom. Turn fillets and brown other side, about 4 minutes per side for 1-inch fillets. Remove to a platter and keep warm.
Drain cooking oil and wipe skillet with paper towels. Heat butter over medium heat and add pecans, nutmeg and salt. Cook, stirring, until pecans are lightly browned, about 3 minutes. Add bananas and cook, stirring, about 1 minute or just until heated through. Remove from heat and stir in lime juice and cilantro. Place fillets on warm plates, spoon some sauce over each and serve immediately.
Benefit of Banana
The banana constitutes almost a complete balanced diet in combination with milk.
Banana is known for promoting healthy digestion.
The banana is used as a dietary food against intestinal disorders because of its soft texture and blandness. It is the only raw fruit which can be eaten without distress in chronic ulcer cases. It neutralizes the over-acidity of the gastric juices and reduces the irritation of the ulcer by coating the lining of the stomach.
Bananas are of great value both in constipation and diarrhea as they normalize colon functions in the large intestine to absorb large amounts of water for proper bowel moments. Their usefulness in constipation is due to their richness in pectin, which is water-absorbent and this gives them a bulk producing ability. They also possess the ability to change the bacteria in the intestines from the harmful type of bacilli to the beneficial acidophyllus bacilli.
Bananas are useful in the treatment of arthritis and gout.
Being high in iron content, bananas are beneficial in the treatment of anemia. They stimulate the production of hemoglobin in the blood
A diet consisting of bananas and skimmed milk is considered an effective remedy for weight reduction. In prescribed course of diet treatment, the daily diet is restricted to six bananas and four glasses of skimmed milk or buttermilk made from skimmed milk for a period of 10 to 15 days. Thereafter green vegetables may be introduced gradually, reducing the intake of bananas from six to four. This regimen or prescribed course of diet treatment can be continued till the desired results are achieved. Bananas are suitable for overweight people as they contain practically no sodium.
Cooked banana flower eaten with curd is considered an effective medicine for menstrual disorders like painful menstruation and excessive bleeding.