Bitter Gourd (Karela)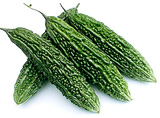 All are familiar with the properties of bitter gourd  
Diabetic patients intake juices and vegetable of bitter gourd.

Fact About Bitter Gourd (Karela)
DESCRIPTION
Cultivated in India, Vegetables 5-25 cm long, 5 cm diameter, green, between thick, pointed at the ends, seeds 8-13 mm long, rough on both sides.
SEASON
June to October
UNAVAILABLE
Generally available
PREPARATION TIPS AND USAGE
Brush & clean properly. It is also eaten cooked, as a vegetable, It can be used as juice. It is often prepared like any other vegetables.
STORAGE
At room temperature away from direct sunlight to allow for natural ripening. If not used within 5 days, it should be stored in the refrigerator for 5 more days.