Cabbage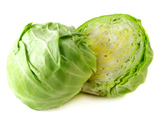 Green cabbage should have a firm head with crisp, shiny leaves. The outer leaves should be strongly coloured and not limp. The outer leaves should not be yellow in colour. Cabbage should have a dense heart and crisp shiny leaves.
Fact About Onion
Nutritional Highlights
Cabbage (raw, shredded), 1 cup (100g)
Calories: 17.5
Protein: 1.0g
Carbohydrate: 3.8g
Total Fat: 0.19g
Fiber: 1.6g
Excellent source of: Vitamin C (22.5mg)
HISTORY
All varieties of cultivated cabbage are derived from wild cabbage. It is believed that cabbage may have originated in the eastern Mediterranean and Asia Minor. In Europe, cabbage has been known for over 4000 years and was first used for medicinal purposes. Later, it was used as a basis for soup
SEASON
From January To December
BEST VALUE
From September To January
UNAVAILABLE
Generally available
PREPARATION TIPS AND USAGE
Green cabbage should be washed and any leaves of poor quality should be removed. The rib may be removed, if desired. It may be sliced finely or left whole. Cabbage may be steamed, boiled, or microwaved. Adding a walnut will reduce the smell of the cabbage during its cooking period. Cabbage is used as a garnish or vegetable, as a base for stews, stuffings, soups, and casseroles.
STORAGE
Trim the cabbage lightly and remove outer leaves, wrap in plastic and store in the refrigerator. It should be used within one week of purchase.