Celery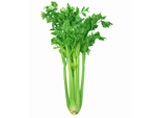 Celery is a plant variety in the family Apiaceae, commonly used as a vegetable. The plant grows to 1 m tall. The leaves are pinnate to bipinnate with rhombic leaflets 3–6 cm long and 2–4 cm broad. The flowers are creamy-white, 2–3 mm in diameter, and are produced in dense compound umbels. The seeds are broad ovoid to globose, 1.5–2 mm long and wide.
Fact About Celery
DESCRIPTION
Celery is a long-season crop that can be tricky to grow, some might say, the trickiest of all. It likes fertile soil, cool temperatures, and constant moisture. It will not tolerate heat and can be hard to transplant. Summer crops in the north and winter crops in the south make celery a year-round producer. All the work is worth it when you harvest crunchy, green stalks.
SEASON
From July to October
PREPARATION TIPS AND USAGE
Trim any tough parts from stalk ends. If desired, strings may be removed by running a vegetable peeler over the ridged side of the stalk. Sauté chopped celery in a little butter or oil for about 5 minutes. Microwave 2 cups sliced or chopped celery by adding 2 tablespoons liquid, covering, and cooking 8-10 minutes.
STORAGE
Refrigerate celery in a loosely sealed plastic bag for a week or longer. When ready to use, separate the stalks. Discard any that are past their prime. Wash thoroughly and dry. Remove the leaves, wash thoroughly and dry or freeze to use in soups. To re-crisp celery, place in ice water in the refrigerator for a few hours.