Cluster Beans (Guar)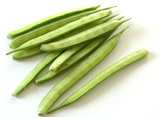 The Guar or cluster bean (Cyamopsis tetragonoloba) is an annual legume and the source of guar gum. It is also known as Gavar, Guwar or Guvar bean.
Fact About Cluster Beans (Guar)
DESCRIPTION
The guar bean or cluster bean , is an annual legume, is the source of guar gum. Guar can be eaten as a green bean, but is more important as the source of guar gum. Young, fresh cluster beans have a narrow and long body with tiny pods. They are very popular vegetable. they are native to India and are widely grown, not only in Andhra but also in other parts of country (dry, warm and arid regions).
Young ones are harvested for vegetable use. The mature pods – the seeds are harvested to be dried and powdered to flour known as guar gum. Guar gum is used as thickening agent in commercial food preparations like ice creams etc. The cluster beans are not only low in calories but are also very effective in lowering the blood sugar and cholesterol levels. Rajasthan grows most of the guar produced in India and it is harvested in October-November. However this vegetable can be found throughout the year in most markets.
HISTORY
Being a crop of the arid regions, the origination of guar is controversial as different people have different opinions about it. The actual place of origin is not known but it is believed that it grew wildly in the hot and arid areas of Africa or the deserts of Middle East. The Arab people first domesticated guar to feed their horses with it. When the trade started flourishing in the Middle East during the silk route trading days, the traders brought with them the pods of guar wherever they went and as a result the seeds of this crop got scattered in those countries. This is how guar was introduced into India.
India also being a hot weathered country suited well for the crop to dwell properly. The regions in the country possessing desert lands like Gujarat and Rajasthan helped guar to flourish and gain importance as there is a small number of vegetables that can be grown in such areas. This helped the crop to diversify its uses from animal feed to human consumption as well. Guar was introduced into the United States in 1903 by India.
Guar was not known for its industrial application till in the times of World War II, when there was shortage of locust bean crop and the paper and textile industry of the world was searching for a substitute. They found as efficient alternative in the form of guar gum and since then, this derivative of guar ruled out locust bean from this scenario and it was readily accepted for application in many other industries.
SEASON
From June- July and October -November
PREPARATION TIPS AND USAGE
Add the cut cluster beans to boiling, salted water and cook until just tender and drain. Usually one or two minutes is sufficient. When overcooked, beans turn to flabby, flavorless things. So keep an eye on them and do not overcook.
They Cluster beans are often cooked like broad beans are cooked. Cluster beans are stringed and chopped into small pieces. Chopped cluster beans are boiled in water till soft and added to tempered oil along with some ground spices. Cluster beans curry is finally finished with a good amount of scraped coconut.
Tender cluster bean pods dish up as a popular vegetable all over India. They can be curried, fried, steamed or boiled.
STORAGE
Store fresh cluster beans unwashed in the refrigerator for up to three to four days. Wrap them in paper towel or place in a paper bag. Avoid storing them in plastic as trapped moisture will hasten spoilage. Check your beans often and discard any that develop soft or dark spots.