Lady Finger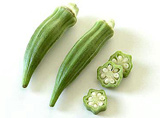 Bhendi is one of the popular vegetable in India. It is cultivated extensively all the year round for its immature fruits. Bhendi fruits are used as a vegetable. The stem of the plant is used for the extraction of the fiber.
Fact About Lady Fingure
DESCRIPTION
Okra is a type of green vegetable, long finger like, having a small tip at the taporing end. Its head shows a bulge, lighter green in shade, which is often removed as inedible portion. The cross section cut okra shows white colored round seeds spread entirely inside the vegetable. One of the peculiar signs of this vegetable is the internal stickiness. The lady's finger may be cut in to round pieces or sliced in to 4 halfes or may be put whole in a mix vegetable subji. The taste is very specific to the vegetable and generally liked by children.
SEASON
All year around
PREPARATION TIPS AND USAGE
Lady's finger is one of the mouth watering vegetables, due to its great palatability and flavor.
It can be cooked as a subji, a part of the main course. It can be savored with phulkas or rotis and also be had with plain rice and dal.
You can fry the bhindi and savor it as a starter
Lady's finger an be used in a mix vegetable preparation such as tawa curry.
It can also be added in sambhar instead of pumpkin.
Try making yummy bhindi kadhi. For making it:
Make buttermilk out of sour curd.
Add little besan or channa dal flour and blend thoroughly.
Heat oil, add asofoetida, jeera, turmeric and curry leaves.
Now gently add the buttermilk and besan mixture cook over a slow flame until it starts boiling.
Add salt to taste, red chilli powder, methi seeds an finally the cut lady's finger.
Serve hot with any rice preparation.
STORAGE
Lady's finger remains in good condition only for around 2 days at room temperature. There are chances of moisture loss, hence it should be stored under refrigeration temperature with relative humidity of 80-90 %. You can wash, clean and store it as a whole or may cut it into desired pieces and store in a net bag under refrigeration. Its freshness will fast for 4-5 days.