Mint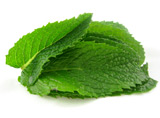 There are many different varieties of mint, including spearmint, apple mint, and ginger mint. Mint was introduced into England by the Romans who grew it and pickled it in vinegar.
Fact About Mint
How to Use
Mint is frequently used when cooking new potatoes and fresh garden peas. It can also be used in jams, jellies and sauces, and as an accompaniment to meat, fish and vegetables. Most commonly in England it is used to make mint sauce, an accompaniment for lamb.
How to Prepare
Crushing the stalks releases flavour when cooking. Finely slice the leaves before adding to new potatoes or fresh peas.
How to Cook
Sprinkle finely chopped mint onto new potatoes or fresh peas, or stir into cooked couscous. To make mint sauce mix with vinegar or a little sugar.
How to Store
Refrigerate for freshness.