Peas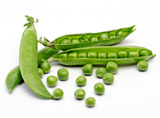 Peas are a cool-season crop, now coming in three separate varieties to suit your garden and cooking needs. They are: Pisum savitum, which includes both garden peas (sweet pea, inedible pod) and snow peas (edible flat pod with small peas inside) and Pisum macrocarpon, snap peas (edible pod with full-size peas). They are easy to grow, but with a very limited growing season. Furthermore, they do not stay fresh long after harvest, so enjoy them while you can!
Fact About Peasa
DESCRIPTION
A pea is a most commonly green, occasionally purple or golden yellow, pod-shaped vegetable, widely grown as a cool season vegetable crop. The seeds may be planted as soon as the soil temperature reaches 10 °C (50 °F), with the plants growing best at temperatures of 13 to 18 °C (55 to 64 °F). They do not thrive in the summer heat of warmer temperate and lowland tropical climates, but do grow well in cooler, high altitude, tropical areas. Many cultivars reach maturity about 60 days after planting.
Peas have both low-growing and vining cultivars. The vining cultivars grow thin tendrils from leaves that coil around any available support and can climb to be 1–2 m high. A traditional approach to supporting climbing peas is to thrust branches pruned from trees or other woody plants upright into the soil, providing a lattice for the peas to climb. Branches used in this fashion are sometimes called pea brush. Metal fences, twine, or netting supported by a frame are used for the same purpose. In dense plantings, peas give each other some measure of mutual support. Pea plants can self-pollinate.
SEASON
From January To December
UNAVAILABLE
Generally available
PREPARATION TIPS AND USAGE
Boil (2-3 minutes – use the minimum amount of water needed, and don't add salt, as they'll toughen up. A pinch of sugar will bring out their sweetness). Steam (1-2 minutes).
STORAGE
Fresh peas keep for 2 to 3 days in the refrigerator. The sugar in them quickly begins to turn to starch even while under refrigeration. As much as 40 percent of the sugar is converted in a few hours. Store unwashed peas in perforated plastic bags for a few days. The sooner they are eaten the better.