Potato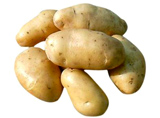 Fact About Potato
DESCRIPTION
The potato is firm, elongated or oval in shape. It is reddish, violet or gray in colour. It has a sweet, floury flesh. It should have no smell, cracks or blemishes.
HISTORY
Originating in South America, the potato was grown by the Incas and the Mayans.
SEASON
From January To December
BEST VALUE
There is no specific best time
UNAVAILABLE
Generally available
PREPARATION TIPS AND USAGE
The potato should be brushed, cleaned and peeled thickly. It is also eaten cooked, as a vegetable, garnish or basis for dessert including scones, cakes or pies. It can be baked, pureed, cooked in its skin or in cream croquettes, in souffles, or gratins. It is often prepared like the potato and can be substituted for the pumpkin.
STORAGE
The potato should be kept washed and stored in a cool dark place with good ventilation.