Spinach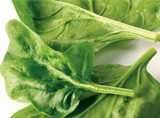 Spinach is an edible flowering plant in the family of Amaranthaceae. It is native to central and southwestern Asia. It is an annual plant, which grows to a height of up to 30 cm. Spinach may survive over winter in temperate regions.
Fact About Spinach
DESCRIPTION
This super-cold-hardy vegetable is a tender crop that can be planted in very early spring as well as fall and winter. Spinach has similar growing conditions and requirements as lettuce, but it is more versatile in both its nutrition and its ability to be eaten raw or cooked. It is higher in iron, calcium, and vitamins than most cultivated greens, and one of the best sources of vitamins A, B, and C.
HISTORY
Spinach is thought to have originated in ancient Persia (modern Iran and neighboring countries). Arab traders carried spinach into India, and then the plant was introduced into ancient China, where it was known as "Persian vegetable". The earliest available record of the spinach plant was recorded in Chinese, stating it was introduced into China via Nepal (probably in 647 AD).
SEASON
From April To September
UNAVAILABLE
Generally available
PREPARATION TIPS AND USAGE
A pinch of baking soda in the cooking water keeps spinach greener.
Spinach boosts your brainpower; it can hinder iron absorption. For better absorption of iron, eat spinach with orange slices.
STORAGE
In a perforated plastic bag in the fridge. Don't wash before you refrigerate, or the leaves will go soggy.