Sweet Corn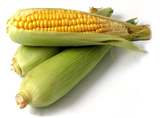 Fact About Sweet Corn
DESCRIPTION
The husks of the sweet corn should be fresh and green in colour. The kernels should be well filled, tender, milky and pale yellow in colour.
HISTORY
The cauliflower originally came from Cyprus. It is thought to have been used since the 6th century B.C. and grown in Turkey and Egypt since 400 B.C.
SEASON
From January To December
BEST VALUE
From February To March
UNAVAILABLE
Generally available
PREPARATION TIPS AND USAGE
The outer leaves and the silk of the sweet corn should be removed and the base cut off. It should be plunged into cold water for 1 hour before cooking
STORAGE
Sweet corn should be wrapped in damp paper towels around the husks and stored in the coldest part of the refrigerator. It should be stored briefly to enjoy maximum sweetness.