Tomato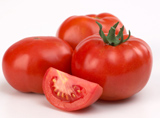 Rich in lycopene, which neutralizes free radicals before they can cause damage, therefore staving off everything from wrinkles to heart attacks. Studies indicate that lycopene could have twice the anti-carcinogenic punch of beta-carotene. They also contain a little iron, which is well absorbed by the body when accompanied by vitamin C and prevents anemia and fatigue.
About Tomato
The tomato should have a firm flesh and a uniform colour with no blemishes, wrinkles or cracks. It should weigh heavy in the hand. Light puffy tomatoes usually have a poor texture and taste.
HISTORY
Originally from Peru, the tomato was considered poisonous til the 18th century.
SEASON
From January To December
BEST VALUE
From November To February
UNAVAILABLE
Generally available
PREPARATION TIPS AND USAGE
The tomato should be rinsed and dried and can be halved, quartered or sliced. The skin should be removed only if necessary and can be done by plunging into boiling water. The tomato can be cooked or raw as a vegetable and used in salads, sauces or juices. It can be diced or crushed and used to season stocks. It blends well with seasonings like garlic, basil and tarragon. The tomato may accompany fish, veal, poultry, tuna, beef, and eggs.
STORAGE
The tomato should be stored at room temperature away from direct sunlight to allow for natural ripening. If not used within 5 days, it should be stored in the refrigerator for 5 more days.