Fruits and Vegetables
Your online reference to fruits, vegetables, veg recipes, healthy diet, suppliers, storage and other information. We help you in healthy life with our tips, articles, other great information about fruits and vegetables.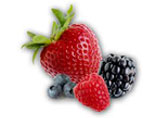 A berry fruit generally refers to any small fruit that lacks seeds and can be eaten whole. There are many type of berries like Blackberry, Raspberry, Cloudberry, Huckleberry, Wineberry, Bilberry, Blueberry, Nannyberry, Barberry, Gooseberry, Mulberry.
read more »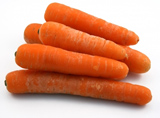 Beta-carotene, which the body converts into vitamin A, is especially important for eye health. It's also of great benefit to the skin, and the immune and digestive systems. Carrots are also loaded with fibre and water, which cleanse the liver, boosted oxification and plump out skin to stave off wrinkles. Benefits of Carrots Carrots are […]
read more »